Submitted by

Anonymous (not verified)

on Mon, 12/11/2017 - 15:11
One way of knowing what people love about the Schroon Lake Region is what they share with each other.
With that in mind, here are the Top Ten things people think about... when they think about us.
History, fishing, and pie
The top most-shared blog of 2017 was about North Hudson history, which includes a fun video about Frontier Town. Our blog, A Day in North Hudson, covered the rise, fall, and possible new rise, of this early theme park.

There's also the fantastic family hiking and the amazing Adirondack Buffalo Company. Yes. real buffalo.
The next one was about Schroon Lake's favorite diner, Pitkin's: A taste of home. Fantastic breakfast with all the fixings, their own Michigans, or dinner with those homemade desserts, like peanut butter pie or rice pudding.

Come on in and make yourself to home.
The third blog was about the great fishing in the area, Wild places, wild fishing! It featured an interview with an Adirondack Guide and a DEC wildlife biologist to find out some of the best places to find the fish.

Of course, the fishing is fine all the year 'round, whether the water is "hard" (frozen) or "soft" (not frozen.)
Water, water, everywhere
Our next three top shares are all about the lakes and rivers.
The blog Kid Hikes Near Water shared some of our favorites for getting the younger ones on a hike with a lovely payoff at the end. Of course, we are spoiled for choice, here, as seen in this shot from Newcomb.
One of our followers, Richard Gallagher, brought us this lovely photo of Blue Ridge Falls, a spectacular, and spectacularly easy, hike with big waterfall action.
Thank you, Richard. What a reminder that spring hiking is especially good for this kind of roaring river photo opportunity.
Our next contender was this shot of fall on the shores of Schroon Lake.
From the fantastic foliage to the tasty eats downtown, this is a great place to be at that most enjoyable time of year.
Thrill of summer
Our final four top shares celebrate the sheer beauty of the area, like this one of fall just beginning in North Hudson.
One of our bloggers caught this fun reminder of how nature is all around us in the Adirondacks.
I love this fall picture from one of our most enjoyed photographers, Sharron Hosley Tyrrell, who revels in capturing our loveliness.

Thank you so much, Sharron!
Coming in tenth is a blog called Celebrate Summer in Schoon.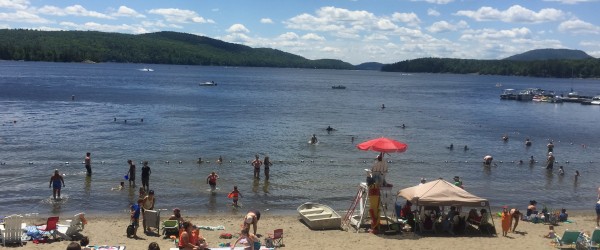 Which we do, we do. And we hope you do, too.
Some of our most shared posts were videos. Enjoy them on our Schroon Lake Region Facebook page, and feel welcome to follow us.
We don't believe in depriving you of anything.
Come and stay with us. Enjoy a meal with us. Win a stay with us.